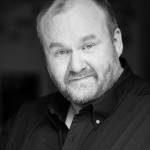 As an actor I've been in Spaced and The Bill, as well as appearances with Rik Mayall and French and Saunders. I played Russian truck driver Dimitri in the pilot for Ghost Recon: Future Soldier, directed by Oscar winners Francois Alaux and Herve de Crecy, with Ridley Scott's production company RSA films, which has gained over 7 million hits on YouTube.
Feature film credits include: Smart, a poltergeist expert in An Urban Ghost Story, directed by Genevieve Joliffe, and the loudmouth King Vincent in Christina Boucher's medieval comedy Knight Knight.
In my long comedy collaboration with Andrew Irvine I've played all kinds of characters, from professors to rock stars to aliens in theatre, video and radio.
For full acting credits, see my Spotlight page