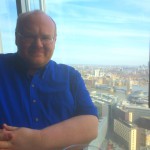 I've been writing since before I can remember, and studied creative writing at university (where I wrote a number of short stories) and wrote for theatre, film, TV and radio while doing my Directing Diploma at ARTTS International.
In 2007 I met my wife and screenwriting partner at a Raindance screenwriting course and we have been writing and developing scripts together in our company Caesar Pictures. These include: supernatural horror Tarot, sci-fi comedy It Lived In My Flat, historical epic Maiden War and several others.
Outside of Caesar Pictures I have worked in script development for several screenwriters, in particular honing the dialogue and drama of scenes by use of language.
Apart from film, I've written comedy sketches and songs as part of my long collaboration with Andrew Irvine. Formerly working as a four-piece group No Cause for a Llama (link to www.nocauseforallama.co.uk ) we are now coming up with new material as two piece Irvine and von Schlippe, for performance in theatre, TV and radio.